Teeth Whitening Dentist in Alpharetta
What color are your teeth? If they are looking a bit dull or yellowed, don't sweat it. Yellow and stained teeth are a normal part of life thanks to aging or enjoying certain foods or drinks. Fortunately, we can rejuvenate your smile back to a gleaming white with one of our professional teeth whitening treatments from Old Milton Dental. Professional teeth whitening in Alpharetta is a highly sought out treatment because of its affordability and beautiful results. Discover if your smile could benefit from a tooth whitening treatment from your cosmetic dentist.
Am I a Candidate for Teeth Whitening?
Before we can give you any dental treatment at our dentist office in Alpharetta, we must first verify that you are a good candidate for the procedure. Tooth whitening is a simple procedure and is available to most of our patients if they meet the requirements. First, a patient must have a healthy smile and be free of gum disease. This is because the teeth whitening treatment won't be as effective with unhealthy teeth as it would with healthy teeth. In addition, we want our patients to focus on the health of their teeth before they even consider the aesthetics. If our dentist verifies that your smile is healthy, you can have professional teeth whitening.
We also require that you do not have a lot of dental restorations. This is simply because restorations cannot be whitened. If you have a crown or a lot of fillings in the front of your mouth, it's possible that your teeth will be a different shade than your restorations. The only way your restorations can get brighter is if we replace them. If you meet these two requirements, teeth whitening is available to you.
Zoom!® In-Office Teeth Whitening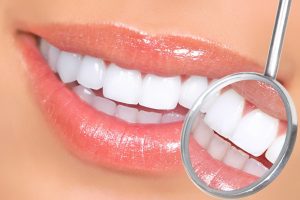 When you visit our cosmetic dentist for your tooth whitening treatment, you will find that we use only professional products. This is to provide you with professional results. The tooth whitening product we use in our office is called Zoom! teeth whitening. We can provide you with the whitening treatment either in our office or with a take-home kit.
The in-office whitening treatment is quick and delivers fast results. In just 45 minutes, you can leave our office with teeth that are up to 8 shades whiter. Visit us during your lunch break for this simple treatment. First, our dentist will prep your gums for the treatment by covering them so that no whitening solution gets on them. From there, our cosmetic dentist will apply a layer of the whitening gel to your teeth. To activate and expedite the whitening process, we will shine an LED lamp onto your teeth. This is repeated three times to help you achieve your desired white smile.
We will finish by applying a post-treatment gel to your teeth to help protect their enamel and prevent tooth sensitivity. We will also provide you with take-home whitening trays to brighten up your smile at home when it becomes necessary. If you are in a rush for whiter teeth, our in-office teeth whitening treatment is the route to take.
Zoom! Take-Home Tooth Whitening
If you would prefer to whiten your teeth in the comfort of your Alpharetta home, we also offer a take-home professional teeth whitening kit. First, you will need to meet with our cosmetic dentist for a brief consultation. We will prescribe the right tooth whitening kit for you to achieve your desired results. From there, we will make you a customized teeth whitening tray that fits your mouth exactly. This is the best way to achieve safe and effective results. Once your trays are ready, we will send you home with your kit.
You will apply the whitening solution to the trays and wear them in your mouth for your recommended time. We offer a take-home kit that you wear for 30 to 90 minutes a day for weeks. We also offer a whitening treatment that you wear to sleep for 1 to 2 weeks. You can expect to wear a whiter smile in as little as two weeks with some results being seen in one week.
What About Over the Counter Tooth Whitening?
You might be wondering why you shouldn't just rush out to the store, or order an over the counter whitening kit from the internet. There are a few reasons. First, over the counter whitening kits are not administered by a dentist. Therefore, you cannot achieve your exact desired results and there is no supervision of your results. This can result in teeth that are uneven in color, not whitened at all, or even damaged teeth. You might as well throw your money away because over the counter tooth whitening products are unpredictable with their results. If you want a guaranteed white smile with beautiful results, visiting your dentist is your best bet. Your professional tooth whitening treatment will look better and last longer than any treatment you can buy at your local drug store.
Benefits of Teeth Whitening in Alpharetta
There are plenty of benefits of teeth whitening. To start, you will feel more confident in your smile. This confidence can bring about confidence in multiple sectors of your life including work, your social life, and even your love life. In addition, you will feel more beautiful. A whiter smile has also been known to make you look younger. Another benefit of teeth whitening is that the results will encourage you to keep your smile healthy so that you can maintain your gleaming results. There are no downsides to professional teeth whitening.
Visit Your Alpharetta Dentist for Teeth Whitening Today
If you are ready to brighten your smile for an upcoming special event or simply because you think it would look great, schedule a consultation with our cosmetic dentists at Old Milton Dental in Alpharetta. You can fill out our online contact form or give us a call at 678-624-0370  at our dentist office to schedule your appointment. Feel free to also ask us any questions you might have like, "How much does teeth whitening cost?" and we will happily answer them for you.