Cosmetic Dentistry in Alpharetta, Georgia
Old Milton Dental is pleased to offer our patients a wide range of cosmetic dental procedures at our Alpharetta dentist office.
Not only can we give you a healthy smile for life, but we can give you one that you can't stop showing off. Our cosmetic dentists at Old Milton Dental are experienced with a variety of cosmetic dentistry procedures. Whether you need a simple tooth whitening treatment or a complete smile makeover, we can help you achieve that beautiful smile you have always desired. Experience the benefits of a gorgeous smile yourself with cosmetic dentistry in Alpharetta, GA. Learn more about the different cosmetic dentistry treatments we offer and why you should finally invest in your smile.
Benefits of Cosmetic Dentistry in Alpharetta
Before you write off cosmetic dentistry because you think it's too expensive, think again. At Old Milton Dental, we try to make every dental procedure affordable, including cosmetic dentistry. With the investment in cosmetic dentistry, you will discover the many benefits that come with it. First, you will experience a boost in your self-confidence and self-image. There's nothing better than loving yourself from the inside out and letting everyone see it. Second, cosmetic dentistry can actually help you achieve a healthier smile. This is because a healthy smile is needed to receive cosmetic dentistry treatments in the first place. As a result, you will need to maintain your dental health in order to maintain your beautiful new smile. Experience these benefits of cosmetic dentistry for yourself with the following treatments we offer.
Dental Bonding
Dental bonding in Alpharetta is one of our most affordable treatments. Tooth bonding is when our dentist uses a composite material to reshape your tooth. The bonding material is colored to match your teeth exactly and can be used to fill gaps, make your teeth look longer, reshape your teeth to look more symmetrical and even help your teeth look straighter. Although dental bonding only lasts a year or two before it needs to be replaced, it can make a huge difference in your smile. If you like the results and want a procedure that lasts longer, you can opt for porcelain veneers next time. Consult with our cosmetic dentists to see the possibilities of dental bonding for your smile.
Tooth-Colored Fillings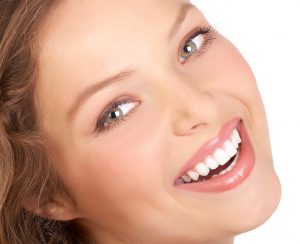 Another cosmetic dentistry procedure we offer that is also considered a restorative dentistry solution is tooth-colored fillings. In the past, it was normal for patients to receive amalgam or metal fillings. Unfortunately, these did not help the aesthetics of your smile to any degree. Smiling with metal popping out can make some patients feel self-conscious, not to mention there is a concern for mercury poisoning with amalgam fillings. Today, you can opt for tooth-colored fillings that are made with a composite material. This material is colored to match your teeth exactly. If you want to have your old metal fillings replaced, we can have the tooth-colored material placed instead. This will give you a natural and beautiful smile.
Dental Crowns
Although considered a restorative dentistry treatment, dental crowns can also be used to give you a more aesthetic smile. If you have broken, unsymmetrical teeth or ones that are filled with metal fillings or stains, dental crowns can transform your smile. Crowns are made out of a tooth-colored porcelain and are placed over your existing teeth. They can also be used to replace missing teeth when attached to a dental implant. Dental crowns look completely natural and are made to complement your surrounding teeth. They are also resistant to stains and with proper care can last for the rest of your life. Learn more about our dental crowns in Alpharetta here.
Porcelain Veneers
One of the most popular cosmetic dentistry procedures we offer is porcelain veneers. Porcelain veneers in Alpharetta can give you a smile that is perfectly white and straight. If you have ever been envious of a celebrity's smile, porcelain veneers are how they achieved it. The thin porcelain shells are made to reshape and recolor your teeth and are simply bonded over the front of your teeth to last for the next 10 years. Learn more about porcelain veneers in Alpharetta here.
Teeth Whitening
If you want a simple and affordable cosmetic dentistry treatment that will make a huge difference in your smile, consider professional teeth whitening. Professional teeth whitening at Old Milton Dental can help you get rid of years of deep stains to give you a vibrant white smile. We offer both take-home and in-office tooth whitening treatments to cater to your needs. Experience a smile up to 10 shades lighter with our professional tooth whitening treatment. Learn more about professional teeth whitening here.
Invisalign®
Old Milton Dental is proud to offer Invisalign in Alpharetta to give patients an alternative option to traditional metal braces. Metal braces can make your smile unsightly, feel uncomfortable, restrict your diet and even make brushing and flossing your teeth difficult. Invisalign clear aligners give you a discreet and comfortable orthodontic treatment without the hassles and restrictions of metal braces. The clear aligners are nearly invisible, making your orthodontic treatment a secret between you and your dentist. Find out if Invisalign is right for you or your child by learning more here.
Smile Makeover
The last cosmetic dentistry treatment we offer at our Alpharetta dental office is a complete smile makeover. If there are multiple problems wrong with your teeth, a smile makeover can combine the treatments you need for a completely brand new smile. Our cosmetic dentist will evaluate your smile to determine which treatments you need to complete your smile goals. Learn more about our smile makeover procedure here.
Visit Old Milton Dental for Cosmetic Dentistry in Alpharetta Today
If you are unhappy with your smile it's time to make a change. Visit Old Milton Dental in Alpharetta to meet with one of our cosmetic dentists for a cosmetic dentistry consultation. We can tell you more about our cosmetic dentistry procedures and recommend the right ones for you. Give us a call at 678-624-0370 or fill out our online form to schedule an appointment today.